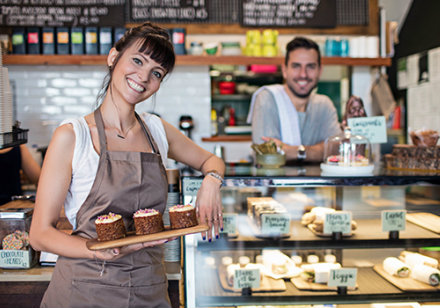 Small Business Loans (SBA)
SBA FAQs
Named the #1 SBA Lender Community Bank in the Central Valley, four years in a row!
Government guaranteed loan programs can help qualified businesses obtain financing that might not otherwise qualify for a conventional bank loan many times with better terms than conventional bank financing.
Fresno First Bank offers a wide range of government guaranteed business loans, including SBA guaranteed loans, SBA 504 loans, United States Department of Agriculture "USDA" loans, California Valley Small Business Development loans and other government loan programs.
As a community bank we provide local service, with local decisions, on all of loan products. There are many programs and options available, and at Fresno First Bank our SBA lending experts are happy to consult with you on a financing package that will best fit your needs. When you're looking for an SBA Loan, go with the best in the Central Valley!
Patrick Durkin
Fresno, CA
(559) 348-5746
Lillian Lucero
Fresno, CA
(559)348-5752
There are a variety of financing options available and we can help you find the best solution to meet your specific needs. SBA loans can be used to help finance a business acquisition, business expansion, provide working capital, fixed asset purchases and owner/user real estate loans. These are a few of the loans you can obtain through Fresno First. If you'd like to learn more, read these Frequently Asked Questions or contact our lending specialists.
SBA 7(a) Loans
This program provides loans up to $5 million for commercial real estate, equipment, working capital, and business acquisition and expansion.
Up to 90% owner-user financing available for commercial real estate

Fully amortized loans up to 25 years

Up to 100% financing on equipment purchases

Use to refinance existing business debt

Available to provide working capital

Purchase of equipment and inventory

Purchase, construction, or renovation of owner-use commercial real estate
SBA 504 Loans
This program provides loans up to $5 million dollars for commercial construction and real estate acquisition.
Up to 90% project financing on multi-use properties

As little as 10% cash down

Low fixed rates available

Fully amortized loans up to 25 years

Owner-user must occupy 51% of existing building or 60% for new construction
SBA Express Loans and Lines of Credit
The SBA Express Loan Program is designed to streamline the application process and provide accelerated turnaround time. In addition, lower interest rates are often available when you apply through an Express program.
Loans up to $350,000

Streamlines documentation and processing
USDA B&I (Business and Industry) Loans
The B&I Guaranteed Loan Program is designed to improve, develop, or finance business and industry. The primary purpose is to maintain and increase employment and improve the economic climate in rural communities. The B&I program allows loans up to $10 million and up to $40 million on rural cooperative organizations that process value-added agricultural commodities.
Terms up to 30 years fully amortized

Owner and non-owner occupied properties

Fixed and variable rate financing
The B&I program can help qualified businesses obtain financing that might not otherwise qualify for a conventional bank loan. Many USDA loans offer longer terms and in some cases a lower down payment which helps preserve working capital.
There are certain geographic restrictions related to the B&I program, however in the Central Valley many projects (not only agricultural related) qualify for B&I funding. We can help determine if the B&I program would benefit your project. Additional information and answers to Frequently Asked Questions can be found under the FAQ menu option.
Valley Small Business Guaranteed Loans
Valley Small Business Development Corporation ("VSBDC") is a non-profit, public benefit, small business development corporation operating under the California "State" Small Business Loan Guarantee Program. Their mission is to provide small businesses and family farms with increased access to capital.
Similar to an SBA or USDA guarantee, VSBDC provides a State guarantee of up to $1 million with terms up to 7 years for qualifying loans. Fresno First Bank is a proud partner with VSBDC.